Enterprise solutions architect
It is said that data runs today's world, and we could argue that it is not an exaggerated statement. From important business decisions to process optimization, everything today is data driven. Data has become a necessity of life. Everyone is pursuing increasing volumes of data, but very few understand that this quest for more data must be closely tied to effective, state-of-the-art datacenters. With the growing demand for data, there needs to be an underlying infrastructure that can host queries, process inputs, and feed relevant information, on pace with modern needs. Prevalent IT infrastructures are insufficient; therefore, to make sure that super-fast data communication is done with negligible latency, the establishment of hyper-converged infrastructure is inevitable.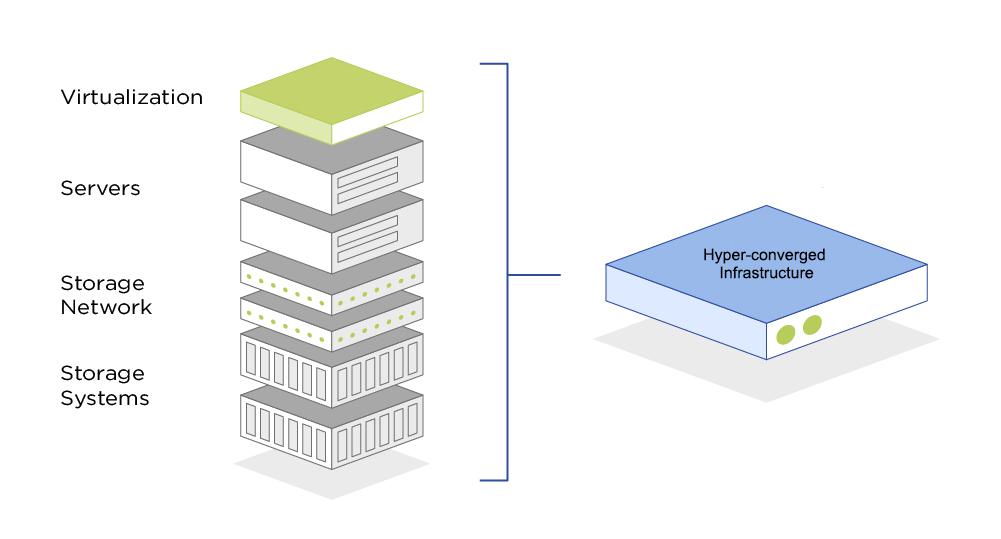 What is hyper-converged infrastructure?
Hyper-converged Infrastructure (HCI) is a unified, software-defined system, which has the capability to combine all fundamental components of any conventional data center, such as storage, computing, management, and networking into a single platform. HCI uses highly specialized software and x86 servers, to negate the need for purpose-built, expensive hardware. In a nutshell, with hyper-converged infrastructure, the complexity of data centers can be reduced manifold, and their scalability can be enhanced to a much greater degree.
If someone looks deep down into the platform of HCI, there are four tightly integrated software components, namely:
Storage virtualization
Computation virtualization
Networking virtualization
Automation for enhanced management capabilities
The virtualization software abstracts and distributes underlying resources in such a way that their dynamic allocation is ensured to the applications that are running, either over containers or virtual machines (VMs). This way, the application-based configurations that are offered, not only align with established policies, but also leverage the requirements of complex constructs, such as volumes and Logical Unit Numbers (LUNs). Thus hyper-converged infrastructure (HCI) is an infrastructure that offers high-grade security, enhanced control, and cost-saving.
Benefits of hyper-converged infrastructure
Given the breadth of its concept and comprehensive employability, hyper-converged infrastructures hold rich credentials to bring excellent results for the IT industry. Today's enterprises are running on the key concepts of agility, and since high performance, reliability, resource sharing, and availability are amongst some of the key determinants of agile practices, HCI has a clear role in enabling organizations to keep up with agile aspirations.
Following are some of the key areas where HCI establishment can bring a host of benefits:
Risk reduction
Being equipped with stern automation protocols, HCI is helping organizations to reduce the overall risks related to downtimes, which usually occur during standard life-cycle management tasks, such as system-refresh, or firmware upgrades. Since HCI is highly scalable and possesses a software-defined nature, it allows data centers to reduce overall risk, by safely leveraging even high risk and complex forklift upgrades. HCI is also allowing organizations to optimize their DR/HA (Disaster Recovery/ High-Availability) processes, through reducing the risk, as well as associated cost.
Reduced operational expenses
HCI implementation results in a significant reduction of operational expenses (OpEx), as data centers can diminish storage silos and reduce overprovisioning. These changes further result in reduced power, cooling, and physical space requirements, which ultimately result in reduced operational expenses for the data centers. Another way in which HCI is helping IT organizations lower their operational expenses, is through its highly integrated management software, which has the capability of automating several complex processes during initial deployment. In this way, not only a smaller number of steps are required to provision new workloads, but it also results in the increased productivity and agility of the datacenter.
Reduction in capital cost or expenses
With the abolition of Storage Area Network (SAN) oriented storage mediums, HCI has a lot of potential to offer reduced capital expenditures for data centers, as it features completely virtual computation and data services. Since users are at liberty to purchase only those nodes that help them in the initial deployment, they are saving a lot, in terms of lower capital costs or expenses.
Enhanced data protection
Cyber-attacks, or accidental deletion of data files, are some of the bitter realities of the IT sector. HCI is built on industry-standard servers, having high-grade security features, which provide enhanced data protection. However, even if calamity strikes due to any reason, HCI enables organizations to restore their data in a seamless manner, without feeling any sort of disruption, or lag in their normal operations.
Decreased downtimes
Normally, one disruption in any of the storage nodes causes a disconnection of the whole node, resulting in users experiencing unnecessary downtimes. However, with the HCI, users enjoy around the clock connectivity and increased uptime. The reason lies in the software-defined storage mechanism of the HCI, where single storage nodes perform as a single redundant and reliable pool of storage, therefore, even if one node goes down, the rest of the nodes keep working.
Conclusion
The growing demands of seamless connectivity, and the sheer availability of data, are demanding something as proactive and high performance as hyper-converged infrastructure. In the future, or even in today's world, conventional data centers no longer remain viable. Software-defined data centers like HCI will be built out instead, where everything from storage to network management is managed centrally, from the single piece of software. Such an enhanced and versatile system not only ensures scalability, but also offers network uniformity. Being able to assist applications in managing everything from storage, computing, and VMs, HCI defines the future of the IT industry. Furthermore, benefits like reduced downtimes, reduced capital expenditures, lower operating expenses, decreased risk, and stern data protection, clearly define the future. Given its features and benefit offerings, there is no doubt that hyper-converged infrastructure will be key to acing the IT industry.
*3xCCIE – Data Center, Security & Collaboration, Cisco
VCIX-NV - VMware Certified Implementation Expert, VMware
CISSP – Certified Information Systems Security Professional, (ISC)2
CISM – Certified Information Security Manager, ISACA
PMP – Project Management Professional, PMI
See how UNICOM Government can help your organization with solutions in: