Digital watches have come a long way since first being released in 1972. Watches have gradually become more computerized by providing more abilities and services to wearers than just time keeping. The evolution helps to explain why consumer electronic companies are banking on smartwatches becoming the next big personal tech item, after the smartphone and tablet.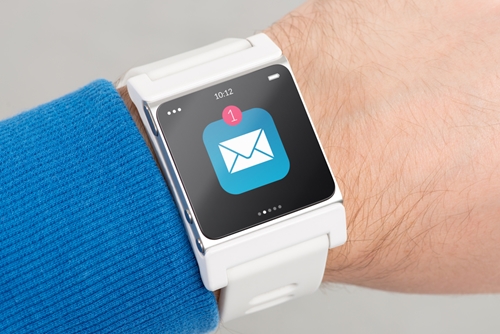 The watch market has yet to fully take off and pales in comparison to the explosion smartphones encountered in late 2007 and early 2008. Watches, part of a larger category of new tech apparel called wearables, have for quite some time struggled to convince they are must-own devices for consumers. However, as Apple enters into the market, optimism is high that the company will once again revolutionize an industry.
This optimism should make its way to government agencies, from the federal level down to the local level.  Smartwatches present a unique way for the agency workforce to increase productivity and ensure citizens are being served. Of course, agencies will need to consult with government IT services to best implement smartwatches, and manage the impact they will have on the IT side of things.
Unified communications
Enterprise applications already exist for government agency employees to access their work from anywhere – be it office, home or mobile device. Smartwatches add another piece to that puzzle and can simplify it.
However, enterprise developers are uncertain at this moment what great smartwatch apps look like. IT professionals have to ensure apps are built specifically for a device less powerful than smartphones. Only the essentials should be used.
Productivity likely to increase
Unified communication solutions have already streamlined operations and increased collaboration because employees are always reachable. Now, smartwatches have the opportunity to bring employees even closer to their work, which is not as bad as it sounds. MobileIron, in partnership with Harris Poll, conducted a survey of workers 18-34, dubbed the "Mobile Generation." Of the 42 percent planning to purchase a smartwatch, 95 percent plan to use it for work. Government agencies should be excited with workers wanted to use new devices to increase work productivity and workflow.
The excitement should be tempered, however. Ojas Rege, Vice President of strategy at MobileIron, told CNBC, "There is a lot of interest in the Apple Watch, especially in this hyperconnected employee base, but the interesting thing is they don't know exactly how they will use it, because they haven't seen it before."
Security
Some IT and government officials may worried about security, but one prominent enterprise security company released an Apple Watch app. The app will let the wearable become a secure digital key. "Apple Watch is the ideal platform to replace the password, plastic card, and metal key," MicroStrategy Inc.CEO Michael Saylor said in a statement. IT departments can combine the best security apps and device management practices to create a truly secure agency while letting employees use wearables for productivity.
As more employees start to use wearables, government IT solutions should look to embrace the devices rather than ignore devices that can help a government agency operate even better.