Software defined networking (SDN) is a new approach to designing, building and operating networks. The control plane is decoupled from the data plane and is logically centralized in an SDN controller to provide a single abstracted view of the underlying network topology and its state. Communication between network devices and the SDN controller use communication protocols that may be open, such as OpenFlow, or may be proprietary. Open, standards-based protocols allow for multivendor interoperability and increase choice and competition while reducing the threat of lock-in.
Challenges related to network configuration and agility are the impetus for SDN. Many network devices are still managed from the command line, which forces network administrators to manually adjust configurations in response to changes in use or the standing up of new applications. A greater number of network devices means more time devoted to manual configuration and reconfiguration. This trend is unsustainable in the long term. SDN has three layers: infrastructure, control and application. All three layers impact network security controls by offering the potential for both implementing security in a more flexible manner and increasing risk to the enterprise.
Proponents argue that, among other advances, SDN will centralize and simplify control of the network, make networks programmable and more agile, and create opportunities for policy-driven supervision and more automation. In short, SDN will help networks keep up with the speed of change made possible by the virtualization of other data center resources and provide the perfect complement to cloud computing.
SDN movement is gaining momentum now, particularly, being led by open networking foundation (ONF) whose board members include firms like Microsoft, Yahoo, Facebook, Google, Verizon and others. Rather than the classic approach of each network device principally worrying about adjacent devices and forwarding traffic based on that knowledge, centralizing intelligence using SDN makes it possible to see the network end-to-end and make smarter, big picture decisions, and when it comes time to make network changes, you can touch the network once instead of having to update each link in the chain. The SDN solutions are expected to reduce the network complexity, bring in network automation and reduce operational costs.
While SDN products do exist today, we are still in the early stages of this market. Network devices are starting to support SDN protocols and both virtual and physical SDN products exist. There are many OEM vendors out there developing SDN solutions. For instance, Big Switch and Nicira have rolled out products for virtual networking. VMware last month announced the launch of NSX platform as the combination of technologies from Nicira (the NVP platform) and VMware (vCloud Network and Security). It's a key element to VMware's strategy for software-defined networking (SDN) and the software-defined data center (SDDC).  HP is federating its SDN controller with NSX's focusing on orchestrating the controllers together, as opposed to allowing a controller to reach southbound to manipulate physical and virtual ports together. HP is also introducing a new top-of-rack switch with VXLAN support built in. Called the HP 5930, it's due to ship in December. Dell is adding VXLAN support and NSX integration by introducing a high-end top-of-rack switch, the S6000, due to ship by the end of September. In the IBM SDN architecture, the underlying physical network is abstracted and presented as a service to applications and network services. The architecture supports new networks based on the OpenFlow protocol and existing networks using virtual overlays based on IBM's distributed overlay virtual ethernet (DOVE) technology.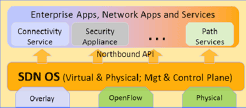 A lot of changes in the data center and in data center networking are happening as we speak. Software defined networking (SDN) is an emerging framework designed for virtual, dynamic and flexible networking that allows organizations to more easily modify, control and manage today's physical and virtual networks. The customer should keep a calm hand on the rudder to navigate through that stormy weather and select the right technology that suits their needs. In coming months and years, I anticipate major announcements around the SDN. Are you seeing a similar trends take shape? Please share your comments and thoughts with me. Follow me on Twitter at GTSI_Architect.